Nampak International Ltd. donate a fabulous Christmas charitable hamper to Joey Dunlop Foundation
Sat, 24 Dec 2022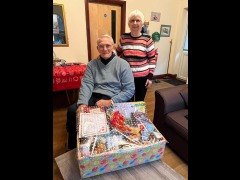 Steve Marsland and Sharon Gurney of Nampak International contacted the Foundation to ask if there were any disabled guests staying at Braddan Bridge House over the Christmas period that would benefit from one of the hampers that staff at Nampak International had put together.
Staff have been carrying out this gesture for a few years and over the last couple of years have managed to obtain support from over 50 businesses which has resulted in them putting together over 35 hampers in 2022.
John and Kath Barrett are pictured with the hamper which was donated, they are extremely grateful and said that it was such a lovely gesture. They will enjoy this as they stay on the island over the festive period to visit family and friends here on the island.
Big Thank You to everyone who assisted Nampak International!
Have a wonderful Christmas everyone.