Mark Purslow's Family send donations to 3 charities that were close to Marks heart.....
Wed, 19 Oct 2022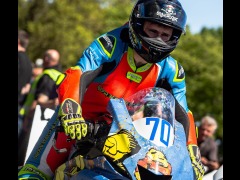 The total amount collected was split between 3 charities; Joey Dunlop Foundation, Mike Hailwood Foundation and the Welsh Air Ambulance.
Joey Dunlop Foundation has received £3,577.52.
JDF committee wish to thank the Purslow family as well as everyone who has donated so generously to the Go Fund Me Page that was set up after Mark's tragic death at this years Isle of Man TT.
The Foundation will be planting a tree in his memory at Braddan Bridge House next spring