JDF seeking help to assist mercy mission to Orphanages in Poland
Sun, 13 Mar 2022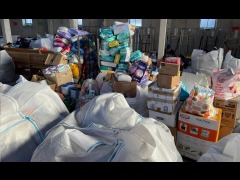 Joey Dunlop Foundation is appealing for some assistance with securing a large size van (LWB) so that the charity can help transport much needed aid to the orphanages in Poland as this is where many of the young children from war-torn Ukraine are heading to.
John Harris, (a Sponsor and close friend of the late Joey Dunlop and is the Charity's Vice President) has been in touch with Joey's wife Linda to seek support with a mercy mission similar to what he and Joey did back in the early 90's. John has spoken to organisations who are supporting the orphanages to secure address's in Poland where he hopes to take 3 large vans full of supplies to.
On the Isle of Man, Jenny Baker has recently assisted in organising 3 artic wagons of aid to be transported over to the people of Ukraine and there is enough supplies left over to fill another artic lorry. The plan for JDF is to load 3 vans from this surplus and transport it directly to Poznan in Poland.
Under the banner of Joey Dunlop Foundation, John Harris (based in Essex), Barry Steels (JDF Trustee based in Lincolnshire) and John Watterson (JDF Trustee based on-island) will complete the trip over to Poland in April. Each will have an additional passenger who will assist with them with the driving.
John Harris and Barry Steels have their own vans but John Watterson is in need of a van in order to complete the trip. Due to Brexit, ownership of the vehicle must be shown when crossing borders in Europe so if anyone on the island can assist us with loaning of a large van please do message us via email info@joeydunlopfoundation.com
The group are also requesting financial support to help cover the travel costs for the trip. Donations have already been pledged but they will require lots more so have asked the JDF to publicise this appeal on the Charity's FB page and website.
JDF has a just giving page that can be used to send funding for this trip r PayPal donations can be sent to accounts@joeydunlopfoundation.com