Happy Handover Day for Tombola Winner John Avery....
Sun, 06 Feb 2022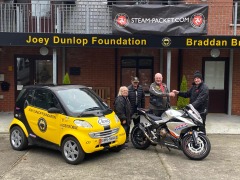 Trustee Barry Steels arrives on the island with John's first prize from the 2021 Tombola. The annual dinner was cancelled due to coronavirus and as a result the Honda CBR500RA was not on the island when the tombola draw was carried out. John is only the second winner the Foundation has had that lives on the island. The last island based winner was back in 2010, the year that the Charity opened the holiday apartments at Braddan Bridge House.
John is over the moon with his prize and is looking forward to putting lots of miles in on his new machine. Happy riding John!