Annual Joey Dunlop Foundation Dinner Cancelled..........
Sat, 08 Jan 2022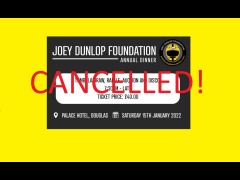 Trustees of Joey Dunlop Foundation are sad to announce that due to the ongoing situation with Covid-19, the charity's annual dinner at the Palace Hotel, Douglas on 15th January is cancelled.
Several guests have recently messaged to advise that they were either isolating having caught the virus or had family members who tested positive. Attendees from Ireland notified us last month that they would be unable to travel due to the early cancellation of the only scheduled flight over the weekend of the dinner. Over recent days, numbers of reported positive covid cases on island has been extremely high and as a result of this, together with the concerns of other guests, the JDF committee decided that the responsible course of action would be to cancel the event.
The 2021 Tombola Draw will go ahead on the scheduled draw date of 15th January at 2pm. We are pleased to announce that local TT racer, Conor Cummins will draw the winning tickets. The draw will be filmed and posted live on the Foundations Facebook page. Results will be posted on the charity's website.
We wish to thank our loyal supporters for the continued support given and we hope that we can catch up with you all later in the year at our scheduled fundraising events.