Joey Dunlop Foundation is charged and ready to go!
Tue, 21 Dec 2021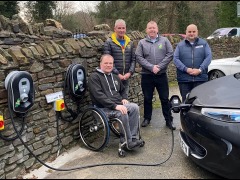 The charity which runs operations at Braddan Bridge House, providing self-catering accessible holiday apartments, is now equipped with two 3-phase electric vehicle charge points.
Although the Foundation has not required the charge points to date, it will not be too long before guests arrive with an electric vehicle that will require an electric charge point during their stay on the island.
Joey Dunlop Foundation committee contacted Alastair Bayley, Manager at Edmundson – Walsall Electrical Limited and a keen supporter of the charity who has helped in the past, for advice on how best to install two charging stations. Alastair called upon Martin Coyle, Managing Director of Manx Solar Electrical Limited, to fit the best equipment that would meet the requirements. Martin has assisted the Foundation before when the apartments were first opened back in 2010 and was pleased to take on the work. Andy Faragher of A&J Builders & Contractors was called upon to complete the necessary ground works. Andy has been a supporter of the charity for many years and has always been the main building contractor for works undertaken at Braddan Bridge House.