Joey Dunlop Tombola 2021 - Take 2!
Sun, 18 Apr 2021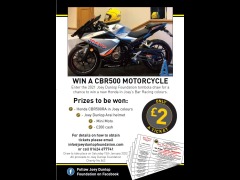 After having to cancel the draw from 2020 due to the global coronavirus pandemic, the Joey Dunlop Foundation now have new tickets for 2021.
Although this is another year with no NW200, Isle of Man TT, Southern 100, Classic TT or Manx Grand Prix races, the Foundation has decided to run the Tombola with the first prize being a new Honda CBR500 in Joey's Bar Racing colours.
All of the tickets sold in 2020 have been replaced with new and please keep an eye on the events page as well as our Facebook Page to find out what events we are at in order to get your tickets.
There is a new Joey Dunlop Arai replica helmet for 2nd Prize, a mini moto 3rd Prize and £200 cash for 4th Prize.
Please show your support to the Foundation and the draw will take place at the JDF dinner on the 15th January 2022.
Thank you and good luck to all who enter.