JDF will be at Murray's Motorcycle Museum on 5th & 6th December
Fri, 13 Nov 2020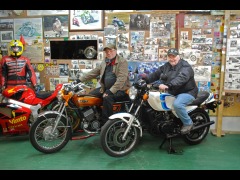 Joey Dunlop Foundation are setting up our stall at Murray's Museum on the 5th & 6th December and will be open from 10am to 3pm on both days. There is a limited stock of merchandise that will make excellent Christmas gifts or stocking fillers. There will also be a chance to win a bottle of JDF whisky in a raffle at only £1 per ticket.
No Tombola Draw for 2020 due to the coronavirus but this will be carried over to 2021 and the JDF are just awaiting new tickets to be supplied.
Why not take a sight around the museum when visiting, only £5 to enter the museum and this will also get you a complimentary tea or coffee with a biscuit!