Thanks to Ruth & Mike Brown of Handleys
Tue, 12 Jun 2018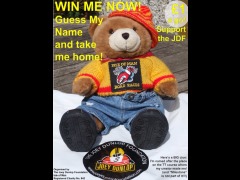 The teddy, kindly dressed and donated by Val, raised £118.00. People had to guess his highest speed around the course, which was 127 mph and was won by a gentleman from Greeba.
A JDF T shirt was raffled and raised £108 and was won by Paul from Cheshire.
The remaining monies were donations from those who came to watch from Handleys corner. Thank you to everyone who contributed in any way.
Thank you to Ruth and Mike Brown of Ballamenagh Cottage, Handleys Corner