Braddan Bridge House gets GOLD!
Tue, 08 May 2018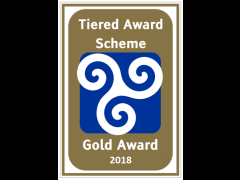 The Joey Dunlop Foundation has been recognised by judges from Crossroads Care Isle of Man's Tiered Award Scheme for commitment and dedication to both the local and visiting community in providing affordable accessible accommodation.
The Joey Dunlop Foundation, a Manx charity whose main aim is to create specialist accommodation for visitors with disability, has been awarded the Gold Award through the scheme.
Bruce Baker from the Foundation said, "The Committee are extremely pleased to have been awarded the Gold classification for our facilities at Braddan Bridge House. The charity has worked tirelessly over the years to ensure that the Isle of Man is opened up to those visitors that require specialist accommodation. It is very warming to see so many who benefit from what we have achieved."
The Gold Award is testament to the largely volunteer base who actively promote and deliver a truly pleasurable experience to their guests and Crossroads is delighted to have been able to award it to the Foundation!
Crossroads' Tiered Award Scheme has been set up to enable local businesses and organisations to become more disability aware and prepare them for the forthcoming Equality Act. If you would like more information on the Scheme please get in touch.
Tiered Award Lead
Crossroads Care
Units B5 & B6
Eden Business Park
Cooil Road
Braddan
Isle of Man
IM4 2AY
TAS@crossroadsiom.org
Tel: 07624 428616