Tombola Winner collects 1st Prize
Sun, 29 Jan 2017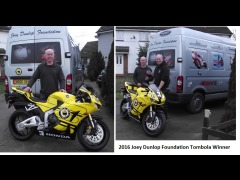 Upon receiving his prize Andy said, "Firstly, I'd like to say thank you very much for my fantastic bike, It still hasn't really sunk in even though I'm sat looking at it!
I bought 1 ticket one afternoon at the Isle of Man TT, to support the fantastic work that the Joey Dunlop Foundation does. No part of me ever thought I'd win! As a normal man from Lincolnshire, I never expected to be sitting looking at a brand new CBR 600 RR. Absolutely brilliant.
If I can win it, anyone can! Keep up the good work and I'll be buying another ticket when I see you at the TT this year."