2016 JDF Tombola Draw Results!
Sun, 15 Jan 2017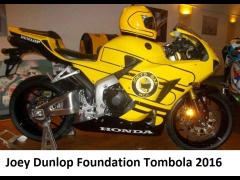 Thank you to guest star for the evening Jenny Tinmouth who pulled the winning tickets and also to our other guests who included, Alex George, Maria Costello, Dave Molyneux, Klaus Klafenbock, Dan Sayle, Jamie Hamilton, Ryan Kneen, Paul Hunt and many other JDF supporters.
Roy Moore was M/C and the JDF thank him for his wonderful work in conducting the interviews and to all the JDF committee who helped in delivering another fun filled evening at the Empress Hotel. The hotel staff delivered another fantastic meal, offering great hospitality to our guests.
Details of next years tombola to follow soon.....