Joey Dunlop The North West 200 Wins DVD
Sun, 12 Oct 2014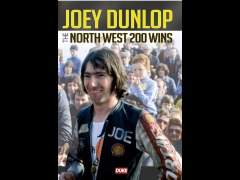 Joey Dunlop The North West 200 Wins
From the Producers of "How the North West Was Won" & "Joey Dunlop Remembered" a new programme on DVD looks at Joey Dunlop's 13 amazing wins at the North West 200 between 1979 and 1988. This 90 minute look at racing history is rich in new archive material and contains;-
· 4 insightful interviews with Joey Dunlop.
· Racing footage from all Joey's 13 wins.
· Interviews from the 1980's with Joey's racing rivals including, Carl Fogarty, Wayne Gardener, Steve Parrish, Kenny Irons, Alex George, John Newbold and many more.
· Recent interviews with Carl Fogarty, Keith Huewen, Billy Nutt, Mervyn Whyte, Barry Symmons, Brian Reid & Hector Neill reflecting on their experiences.
· Plus never seen before archive footage and rare photographs which together tell the untold story of this remarkable period in Joey's racing career.
Voiced by BBC Sports Commentator Stephen Watson, who provides important details about Joey's races and those that raced against him. Additional race commentary is by George McCann. Highlights of the programme include:
· An introduction explaining the origins of the North West 200 race with unseen early footage,
· Joey talking us round the circuit with camera on the bike footage from that period,
· Tribute pieces to past heroes like Tom Herron, Mervyn Robinson and Frank Kennedy,
· Previously unseen interviews from the 1980's with Joey Dunlop talking candidly about his chances of winning.
Unique extras include
· Barry Symmons talking about Joey's different Honda bikes.
· The full interview with Hector Neill talking about Sammy Millar's NSU.
If you are a Joey fan this is a must buy DVD for your collection and available from November 2014 from Dukevideo.com .
For further information, please contact: Colin James - M: 07710542473 . Email: emmjam@btinternet.com