Limited Edition Joey Dunlop Whisky
Tue, 04 Mar 2014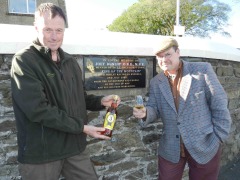 In 2013 the Joey Dunlop Foundation produced just 2013 bottles (70cl 40% alc/vol) each individually numbered.
This Blended Malt celebrates the 3rd anniversary of the opening of Braddan Bridge House and 30 years since Joey's first TT win for Honda.
The whisky was sourced with the help of Ralfy www.ralfy.com and the reason the Whisky has been sourced from Scotland is due to the fact that this was the only Distillers who would produce the small number of bottles which the Foundation wanted. Due to the uniqueness of this product and the fact that profits from the sales are going directly to the Joey Dunlop Foundation Charity, assisting the construction of additional units at Braddan Bridge House, the cost per bottle is £44.00.
If you wish to find out more or wish to discuss with us on how to purchase some of the remaining bottles, then please email us at info@joeydunlopfoundation.com
Thank you for your support.